Abecedaria Editoras & Estudios Culturales, a creative community in the middle of America
Paola Fernández Carmiol, María del Mar Obando Boza & Rocío Rodríguez Soto
Abecedaria Editoras & Estudios Culturales is a publishing house and a virtual and interdisciplinary teaching house that deals with diverse topics related to culture, art, literature, philosophy and social sciences.
Our virtual school promotes the autonomy and creativity of the teaching staff, as well as the quality and security of a comfortable and familiar space for all those interested in knowledge as an opportunity for cultural growth.
Our publishing house is interested in the dissident and creative voices of women writers living in Central America and the Caribbean in order to show them online to the largest number of readers eager to find out what this part of the world has to say.
Soon we will have a collection of twenty texts written by female authors from the region to form an exquisite corpse of the stories that pass through our bodies: Anacristina Rossi (Mouth), Carla Pravisani (Nose), Emmety Pleitez Quiñónez (Eyes), Lorena Juárez Saavedra (Hair), Jéssica Isla (Boobs), Madeline Mendieta (Legs), Karla Sterloff (Neck), Alejandra Solórzano (Feet), Vanessa Núñez Baños (Uterus), Mildred Hernández (Nails), among others
Abecedaria Editoras & Estudios Culturales was born from two important events: the #MeTooCentroamérica movement and the COVID-19 pandemic.
Under the initiative of Paola Fernández Carmiol and María del Mar Obando Boza, this new publishing project was created on April 29, 2020, as a space for creation and dissemination for women writers from Central America and the Caribbean. A few months later, Rocío Rodríguez Soto proposed and conceived the idea of a virtual teaching house.
Given the surrounding events, we believe that pain, anguish and uncertainty find justice sooner in art than in any other space, and we elaborate our own space where the vices of the patriarchal system will not hurt the creative community of women who write for the sake of it, for discipline, for pleasure or when they manage to find the time. Where any restless writer, novel or experienced, can approach us seeking support so that her texts reach the greatest number of readers.
See more about this project
Some courses of Abecedaria Editoras online
This virtual course explores the practical and creative side of philosophy, led by Professor Ximena Arias.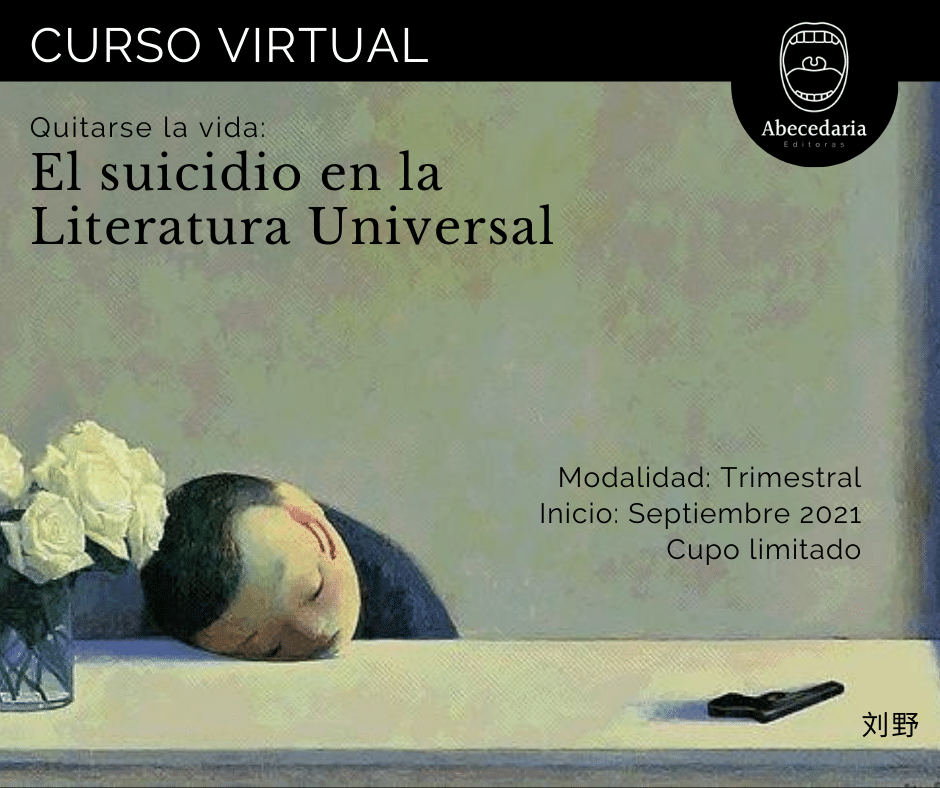 This virtual course establishes a diachronic approach to suicide in some texts of historical and literary relevance.
<< CINC is a proposal that we have been waiting for since we started our editorial and cultural project. Now, as in other historical moments, humanity has had to understand that its survival comes from union and not from individualism. Therefore, to be invited to be part of a project that links many countries together to place us on this continent called the Internet, has been an honor and a pleasant hope.
We hope that the words printed in our editorial and shared in our courses will travel in all possible languages as far as thought and freedom are welcome.
We trust in the sum of efforts proposed by CINC and in the mystique of all the people who make up this movement to contribute and bring us closer to the cultural diversity of the planet that we are. >>